About us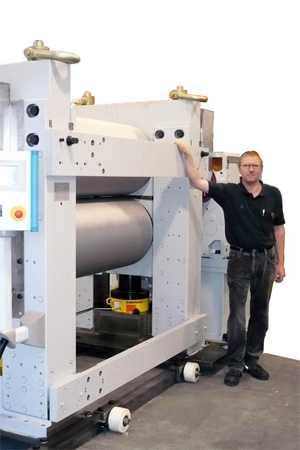 The company SB Brutschin GmbH was founded by Stephan Brutschin in 1994.
Since more than 20 years SB Brutschin stands for innovative engineering, economical solutions and flexible customer orientation.
Our diverse offer includes contract manufacturing through CNC technology in shift operation, special machine construction, repair and maintenance works, technical consulting, construction and fixture construction.
Our broad manufacturing scope including milling, lathing, grinding, drilling, welding in combination with our own engineering enables us to realize complex products and services for you in our factory.
Besides standard machines we develop special machines for individual applications and various markets.
Commissionings, repairs and engraving adjustments are core competences which we perform globally.
One of our special subjects are plants for perforation and embossing applications, which are in use all over the world.
We take care for our machines in e.g. Germany, France, Switzerland, Poland, Ukraine, South Africa, Nigeria, Russia, Japan, Australia, Philippines, Mexico, to name just a few examples.
More plants are in use in Portugal and Asia.
Our embossing machines cover the market range from light foil embossing via paper and packaging cardboard up to aluminium and heavy stainless steel sheets embossing.
We have embossing machines for almost all common materials in our delivery program, even in unique dimensions.
Our innovative solutions allow quickest tool changing times.
Especially our Embossing – Sleeve – Quick change systems in inline – and as well offline – process are market leading thanks to our hydraulic expansion mandrels.
Due to our longtime know how in development and production of embossing machines combined with expert knowledge of roll manufacturing, as well as their application and process technology, you have a partner with us on your side, who incorporates your ideas and implements the solutions with you.
The managing director Stephan Brutschin has more than 30 years experience in manufacturing technology, special machine construction and he has comprehensive knowledge in pneumatics, hydraulic systems and controls.
The managing director Michael Streuber has more than 30 years experience in rolling and engraving manufacturing technology, embossing machine engineering and he has comprehensive knowledge in process and application technology.
Thus, we are able to develop and conduct individual solutions for your problems with you.
Our experienced and trained team is competent to react flexibly to your requirements.
Internal quality control secures the ideal result.
We are pleased to give you further information.
We are looking forward to seeing you!
Your team of SB Brutschin GmbH